Capcom Stocks Hit All-Time High, PlayStation to hold Showcase, Sonic Murdered and more
🕹️ The Console War Rages On
PlayStation is to hold a showcase in May.
According to Jeff Grubb, at Giant Bomb, PlayStation will hold a showcase before Summer Games Fest, which is carded for the 8th of June. The Xbox and Bethesda Showcase will be held on the 11th of June, and Ubisoft Forward will happen on the 12th of June. (Source)
The Murder of Sonic the Hedgehog
An Aprils Fool joke that got its own free game on Steam. Sega announced the game on the 1st of April and made it available for free on the same day on Steam. The game is a Visual Novel which sees Sonic get murdered, and you have to figure out who did it. (Source, Steam)
Nintendo will offer Joy-con Drift Repair in more regions.
Nintendo will now offer free Joy-Con repairs to Switch owners in the United Kingdom, the European Economic Area, and Switzerland. This is according to an update to the company's support page on its UK and other regions website, which labels the now-infamous 'Joy-Con drift' as "responsiveness syndrome or so-called 'drifting'." This alteration aligns the company's policy with regions such as North America, Latin America, and France. The new policy addresses the same Switch Lite concerns. (Source)
Nintendo & DeNA partner up to form Nintendo Systems
Nintendo Systems is the new business that Nintendo and the mobile company DeNA are starting together. With this new venture, the companies will work together to improve Nintendo's digital business and plan and run new services. The companies said they would join forces in November 2022, and as of the 3rd of April, Nintendo Systems and their corporate website in Japanese are up and running. It seems they are also recruiting in Japan at the moment.  (Source, Website)
Konami opens new development Studio in Osaka, Japan.
According to Konami, Konami Osaka Studio is located in the Osaka Umeda Twin Towers South business centre and will adhere to the motto "creators first." According to the company, the new studio "features a well-developed environment where creators can demonstrate their full potential and are situated in a location with easy access to public transportation." As the largest production centre in Western Japan, the facility is outfitted with the necessary motion capture equipment and sound studios for product development. Last month, Konami celebrated its 50th-anniversary last month, and the Osaka studio intends to help the company "maintain sustainable growth for the next 50 years." In addition to its newly opened Osaka studio, Konami is building its new "next generation R&D centre" in Tokyo, Konami Creative Front Tokyo Bay, which is expected to be completed in 2025. (Source)

No Man's Sky releases another update: Interceptors.
The long-running redemption of No Man's Sky continues with British Studios, Hello Games' newest Patch 4.2 for No Man's Sky. The update introduces new enemies, new world types, new Capital Ships, new weapons, new ships, a new ship class, and capital ship battles. There are hundreds of additional updates on the patch update page. No Man's Sky is available for all current and last-gen platforms, including VR. (YouTube Trailer, Patch Page)
The Pokemon Company's parent company, Creatures, Inc., loses its CEO and President.
Tsunekazu Ishihara and Hirokazu Tanaka have stepped down as CEO/President of Creatures Inc. The new President & CEO is Yuji Kitano, with Tomotaka Komura as Executive Vice President. Tsunekazu Ishihara will retain the position of CEO for The Pokemon Company. (Source)
Street Fighter heads to the silver screen again.
In a tweet by the official Street Fighter Twitter account, it has been announced that a new Live-Action Street Fighter movie is in the works by Legendary Entertainment and Capcom. At the moment, it is just an announcement and more details to follow. (Source)
📈 Financing the Bits & Bytes
Capcom's Stock hits an all-time high for the company.
As of the 2nd of April 2023, Capcom Co., Ltd. has officially hit an all-time stock high. It traded at 4,850 Yen, which is 36.55 USD.
This news follows the release of the excellent Resident Evil 4 remake, but Monster Hunter World is the catalyst for this momentum. The 2018 action role-playing game defied expectations, becoming Capcom's best-selling game ever.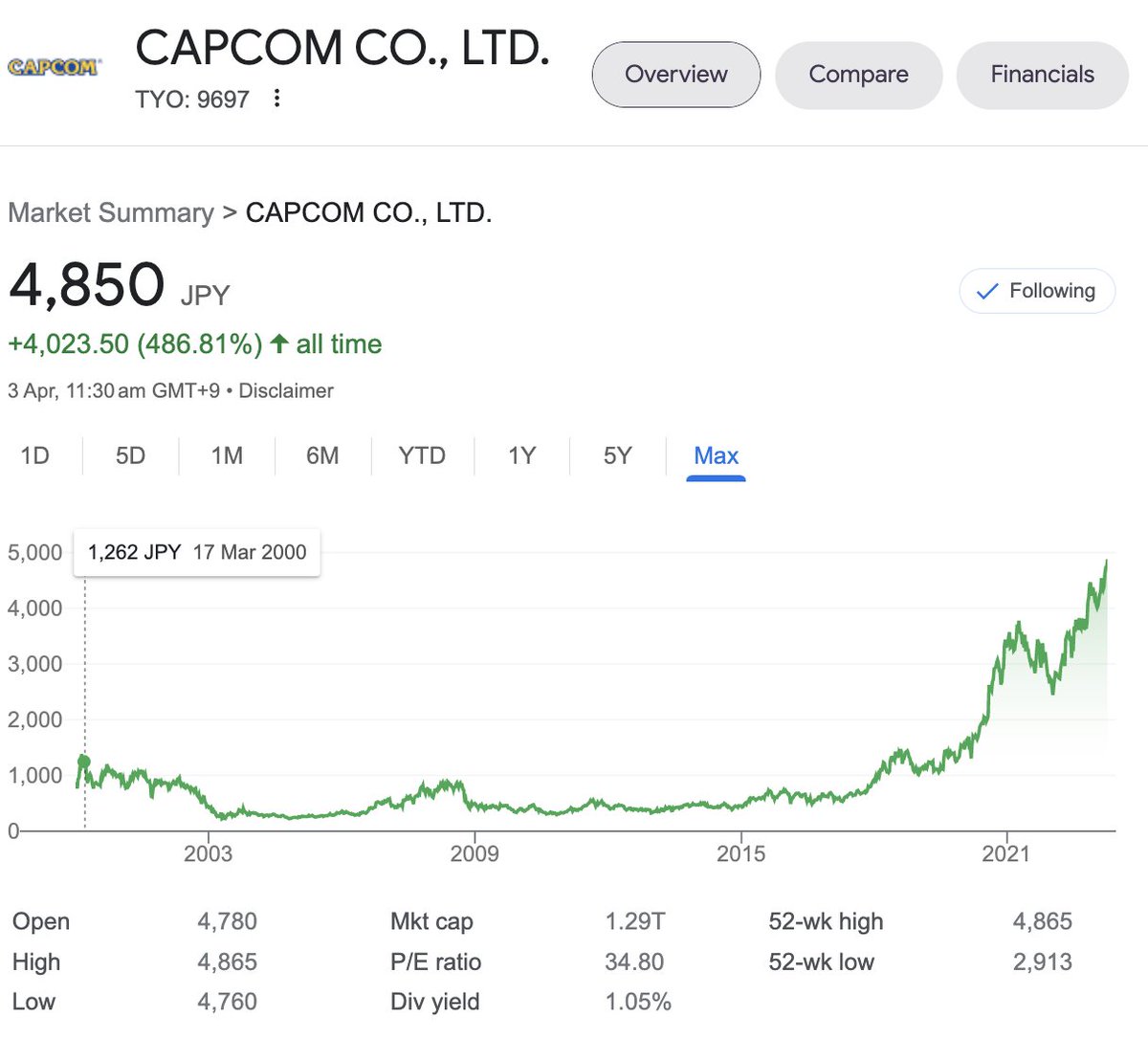 Resident Evil 7's release in 2017 marked the beginning of a new era for the horror-based series, which the publisher resurrected significantly. Since then, incredibly well-received remakes and a new sequel have kept the franchise in the spotlight.
In addition, Monster Hunter Rise contributes to Capcom's remarkable run. With Street Fighter 6 scheduled for release in June and massive projects such as Dragon's Dogma 2 and the inevitable Monster Hunter World 2 in development, there may be additional record-breaking in the company's future. (Source)
✨ Going to Events Spiritually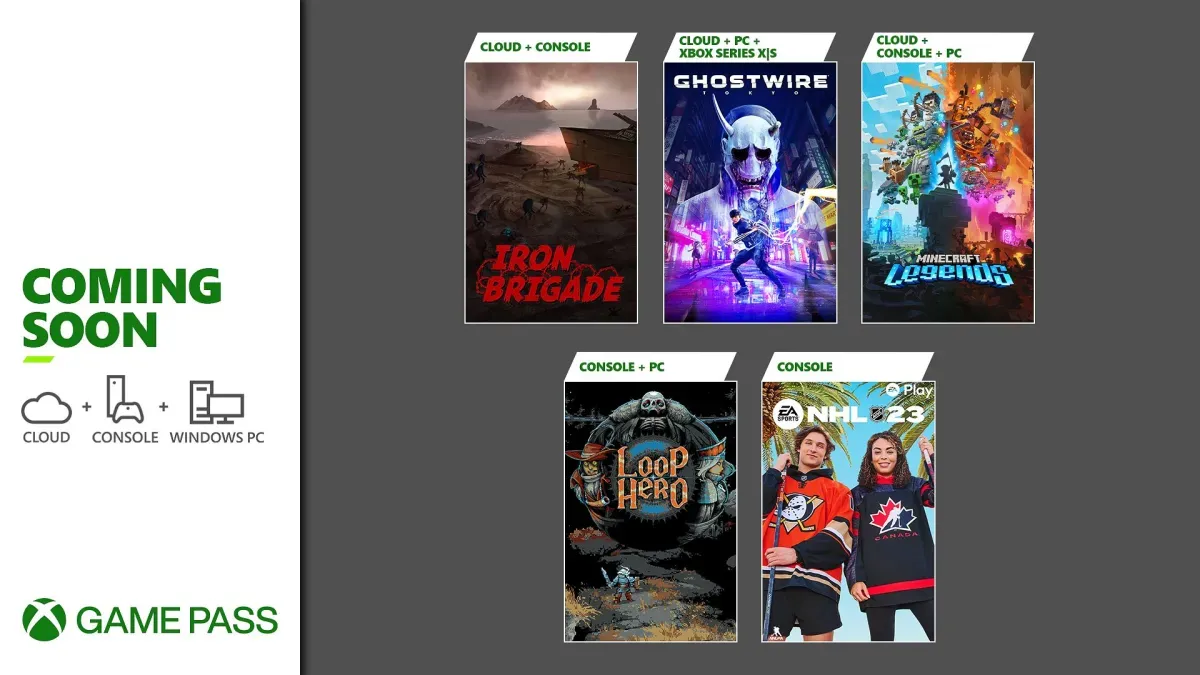 April Xbox Game Pass: Minecraft Legends, Loop Hero, Ghostwire: Tokyo. (Source)
Nintendo Switch Online + Expansion Pack gets Pokemon Stadium 64. However, the game does not support transfer paks, but it does support online play. (Source)
💖 Enjoy this newsletter?
Forward to a friend and let them know where they can subscribe (hint: it's here).