Call of Duty Beta & Early Access, Sony Accuses Microsoft of 'harassment', Xbox Game Pass Reduces Sales!
Xbox Game Pass reduces game sales, Microsoft harasses Sony, and Pokemon Developer wants to make non-Pokemon Games!
🕹️ The Console War Rages On
Call of Duty will have a beta and early access campaign for its new premium stand-alone release!
The game was once called "premium DLC" for Modern Warfare 2. The project will now be a premium standalone game released in 2023. The game's narrative is currently unknown. Like previous premium titles, this year's will feature two weeks of beta testing, an early access campaign, and a comprehensive marketing plan. It has been confirmed that the next game would release on last-generation systems. Current dates floating around are:
Beta weekend 1 (PS4/PS5) – October 6, 2023 – October 10, 2023
Beta weekend 2 (PS4/PS5/Xbox One/Xbox Series X|S/PC) – October 12, 2023 – October 16, 2023
Campaign Early Access (PS4/PS5/Xbox One/Xbox Series X|S/PC) – November 2, 2023
Full Release (PS4/PS5/Xbox One/Xbox Series X|S/PC) – November 10, 2023
(Source)
Sony accuses Microsoft of "obvious harassment" as the conflict over Activision Blizzard escalates!
Microsoft requested Sony executive files, including performance reviews, during the "discovery" phase of its bitter legal battle with the US Federal Trade Commission (FTC) over its proposed $69bn buyout of Activision Blizzard. Sony's court motion stated, "Microsoft's demand for performance reviews for SIE's leadership is obvious harassment." Kotick has accused Sony of "sabotaging" the deal after saying a UK block would turn Britain into "Death Valley" after Brexit. "Suddenly, Sony's entire leadership team stopped talking to anyone at Microsoft," Kotick told the FT. "... adding that his calls to Sony's chief and other executives were not returned," the FT concludes. The UK's Competition and Markets Authority (CMA) expressed serious concerns about the deal this week. It said Microsoft owning Activision "could harm UK gamers" and lead to "higher prices, fewer choices, or less innovation". The FTC and EU's European Commission have both opposed the deal. The CMA decides in April after Microsoft and Activision have two weeks to respond. (Source)
Microsoft is trying to clarify its admission with Xbox Game Pass, so fewer people buy the games in the service.
In response to Microsoft's admission that games added to Xbox Game Pass sell fewer copies in the year after they were added to the service, Microsoft has released a statement. Microsoft claimed that the inclusion of a title in Game Pass resulted in a subsequent decline in base game sales in the UK Competition and Markets Authority's provisional report on Microsoft's attempted Activision Blizzard takeover, published last week. According to Microsoft's internal research, "base game sales decline by [redacted] per cent 12 months after they are added on Game Pass," as stated by the CMA. Microsoft does not dispute the CMA's assertion that Xbox Game Pass reduces game sales, but the company does argue that its subscription model is still compelling to studios aiming to release their games on the service. (Source)
Pokémon developer, GameFreak, seeks to create more non-Pokémon game titles!
In an interview with Axios, GameFreak's Masao Taya - who directed Pocket Card Jockey: Ride On- calls for creating more non-Pokémon games. "In recent years, the amount of resources required for game development has steadily increased, so Development Department One has been experimenting with a style of development in which it collaborates with external studios," he explains. The core teams at Game Freak produce Pokémon games annually, and these games have become increasingly graphically complex, necessitating more resources. Taya explains that for Ride On, Game Freak collaborated with Infiniteloop Co. and Pixyda, two studios that have collaborated with the company over the past decade. Taya indicated that Game Freak isn't finished with Ride On, despite not announcing any other games yet. (Source)
📈 Financing the Bits & Bytes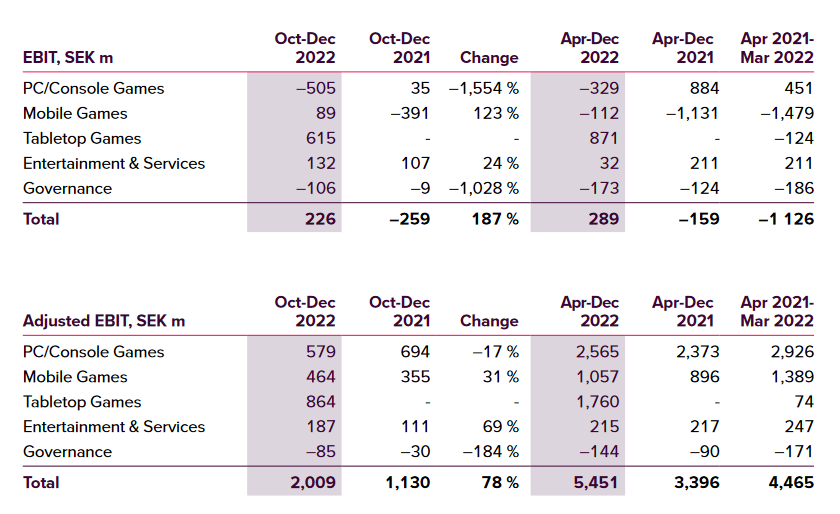 The financial report of Embracer Group for the period of October to December 2022 revealed a 128% increase in net sales, but only 3% of that growth was organic. They generated total sales of SEK 11,622 billion. Except for Tabletop Games, the company's operating segments, which include PC/Console Games, Mobile Games, and Entertainment & Services, all experienced sales growth. The company's EBIT rose to SEK 226 million, and its adjusted EBIT rose 78% to SEK 2,009 million.

The positive cash flow from operating activities for Embracer Group was 2,810 million Swedish crowns. Their basic earnings per share were 1.39 Swedish crowns, and their diluted earnings per share were 1.38 Swedish crowns. The company's adjusted EBIT forecast for fiscal years 2022/23 and 2023/24 remains unchanged at SEK 8,000 to 10,000 million and SEK 10,300 to 13,600 million, respectively. (Source)
🎮 Where's My Controller?
I have been obsessed with Theatrhythm Final Bar Line. Released this week for the Nintendo Switch, I picked up the demo, and I loved it. It takes a bit of getting used to and hurts my hands, but it's a fun game. I recommend that you play the demo on the Switch because it is a ryuthm game, and it may not be for everyone. The demo contains about thirty songs in total. Get it on Nintendo Switch.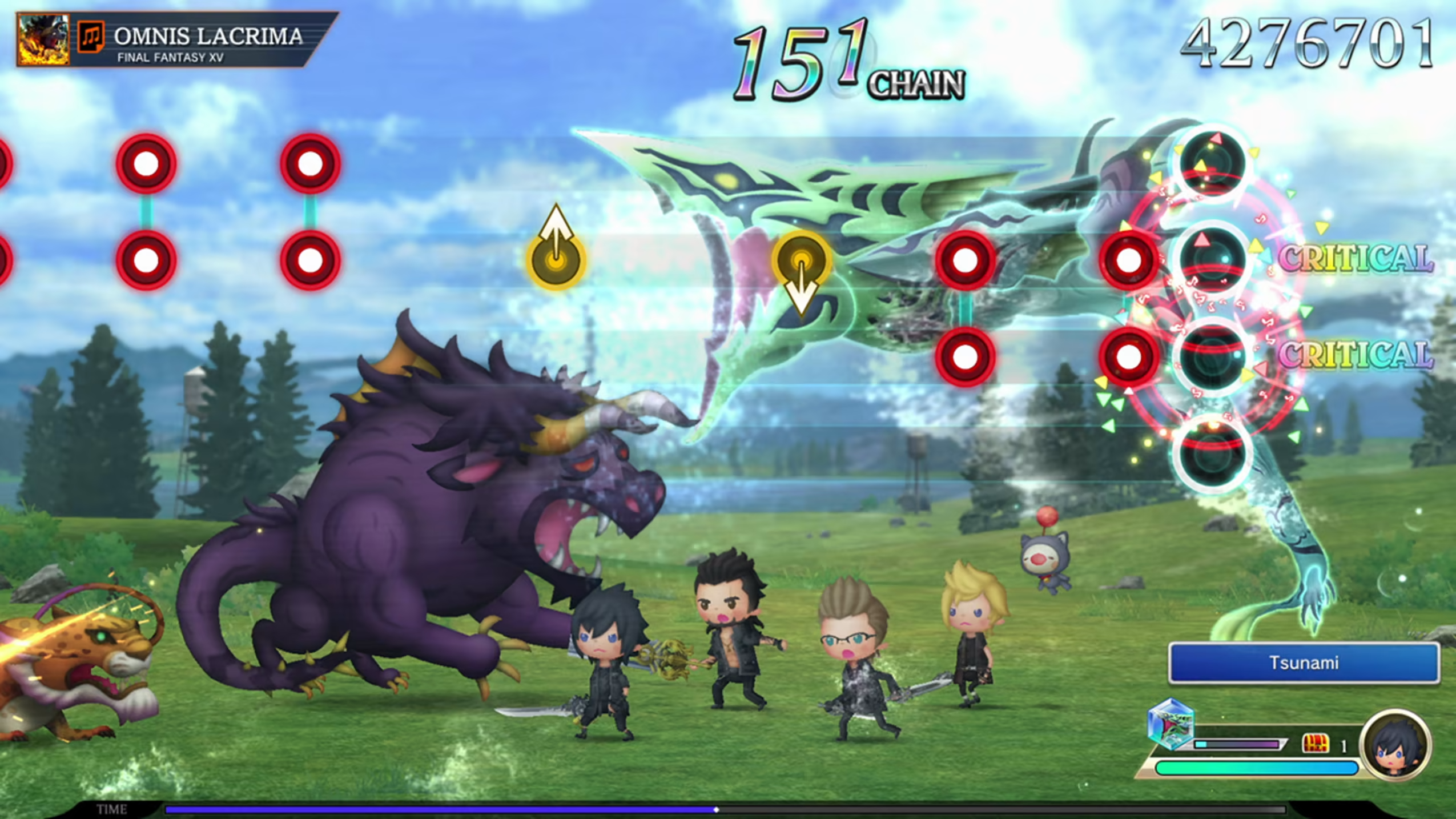 🎵 Turn it up to 11!
Since I've been playing Theathrythm, I would like to share one of my favourite pieces from Final Fantasy: "Suteki Da Ne". Composed by the legendary Nobuo Uematsu and performed by Japanese singer RIKKI. Despite having never played the original Final Fantasy X, I came across this song listening to "Distant Worlds II: More Music from Final Fantasy". This was a live recording of an orchestral concert performed by the Royal Stockholm Philharmonic Orchestra and conducted by Arnie Roth at the Stockholm Concert Hall in Stockholm, Sweden, in late January 2010. The album is a sequel to Distant Worlds: Music from Final Fantasy, recorded following the success of the concert tour. The English language vocal performance of "Suteki da ne" on this album was performed by Susan Calloway. She provided a fantastic rendition that is grand and verbose without any need for visual cues. (English Language Version)
📝I don't know what a pen looks like.
This week was a bit much. I've been a bit bogged down by work. I'm trying to get a lot of stuff going, so everything is taking a bit.
💖 Enjoy this newsletter?
Forward to a friend and let them know where they can subscribe (hint: it's here).