Bobby Kotick promises 'Death' to the United Kingdom, Nintendo raises salaries by 10%, Tears of the Kingdom to cost $70!
Bobby Kotick attacks the United Kingdom with threats of 'Death' as Nintendo raises company salaries amidst winning lawsuits and raising prices!
🕹️ The Console War Rages On
Nintendo Wins Class Action Suit Regarding Switch Joy-Con Drift
Last November, a federal judge sided with Nintendo in the Sanchez et al. v. Nintendo of America case. The Switch's EULA "disallows lawsuits" and requires legal arbitration, so Nintendo was able to stop the case. Nintendo prevailed when the parents were recognized as the systems' owners instead of the children the units were purchased for. Nintendo president Shuntaro Furukawa has apologized for Joy-Con drift and launched a free repair program. Recently, Nintendo America president Doug Bowser has discussed the "battle against" Joy-Con drift, saying Nintendo is improving. (Source)
Nintendo to Raise Worker's Salaries by 10%
Nintendo Co Ltd increased base pay by 10% on Tuesday despite lowering its full-year profit forecast due to a stronger yen. As Japan prepares for its annual spring labour negotiations, Prime Minister Fumio Kishida has urged companies to pay workers more as inflation rises in an economy used to deflation and stagnant wages. In an earnings briefing, Nintendo President Shuntaro Furukawa said, "Securing our workforce is crucial for our long-term growth." Japan has severe labour shortages due to a declining birth rate and low immigration. Companies that can afford higher salaries may help. The maker of "Super Mario Bros." and "Legend of Zelda" cut its operating profit by 4% to 480 billion yen ($3.6 billion) for the fiscal year ending 31st March. Refinitiv predicted a 582 billion yen profit. Nintendo also lowered its annual software sales forecast from 210 million to 205 million and its Switch console sales target from 19 million to 18 million. Furukawa said the Kyoto-based company would consider raising software and game console prices if necessary. He declined to tell if the company was considering replacing the six-year-old Switch. (Source)
Bobby Kotick Promises to make the United Kingdom the 'Valley of Death' if they continue to block Microsoft's acquisition of Activision-Blizzard-King.
Bobby Kotick, the chief executive officer of Activision Blizzard, stated that blocking Microsoft's acquisition of the Call of Duty publisher would significantly setback the United Kingdom's aspirations to become a technological superpower. This week, the UK's Competition and Markets Authority (CMA) is expected to release its provisional findings on the $69 billion transaction and notify the relevant parties of potential antitrust concerns and potential remedies. "They will not be Silicon Valley. They will be Death Valley," Kotick told CNBC in a televised interview on Tuesday, the same day that UK prime minister Rishi Sunak announced the creation of a new government department for science, innovation, and technology. Microsoft is rumoured to have paid close attention to the CMA, as it is perceived to be less predictable than regulators in the EU and USA. It could potentially influence their decisions regarding Microsoft's proposed merger. (Source)
The Legend Of Zelda: Tears Of The Kingdom Costs $70
In a Nintendo Direct press release, Nintendo announced that the upcoming Zelda instalment would cost $69.99. This makes Nintendo the most recent major publisher in recent years to test the pricing waters for its triple-A titles. With the beginning of the next console generation in 2020, other major publishers, such as 2K Games and PlayStation, began pricing their major releases at $70. Both Xbox and Ubisoft announced a year ago that their triple-A games would cost $70 in the future. The following day Nintendo clarified that the Zelda price change was on a 'case-by-case' basis, and they would also be assessing the price change for their future games on a 'case-by-case' basis. (Source)
📈 Financing the Bits & Bytes
Nintendo Quarterly Financial Report Ending December 2022.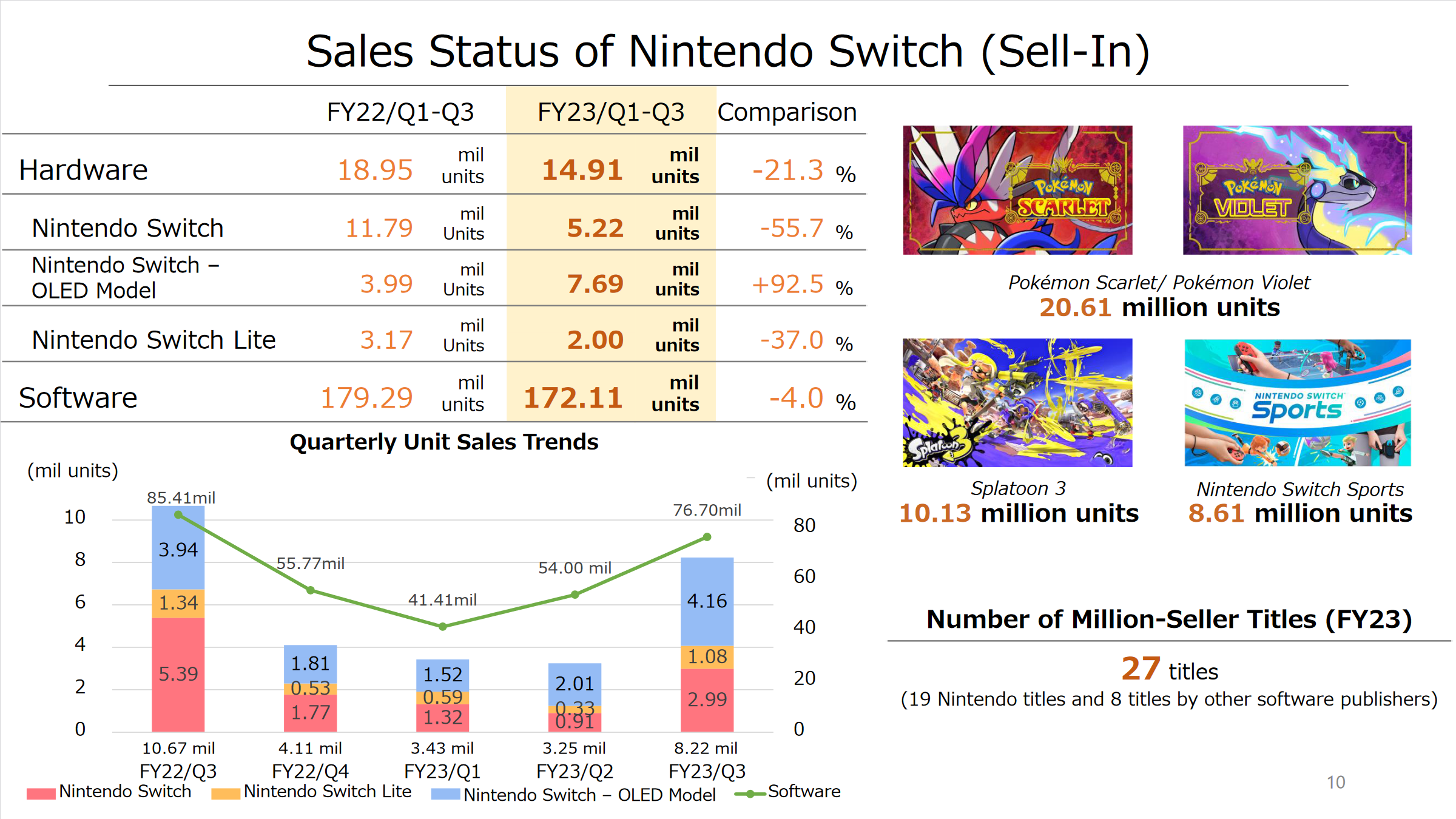 Nintendo's revenue for the nine months ended 31st December reached ¥1.29 trillion ($9.8 billion), down 1.9% year-over-year. The company's net profit was ¥346.2 billion ($2.6 billion), down 5.8% year-over-year.
Sales of the Nintendo Switch reached nearly 15 million units (down 21.3% year-over-year), while game sales reached 172.1 million copies (down 4% year-over-year).
The nine months' best-selling games were Pokémon Scarlet / Violet, Splatoon 3, and Nintendo Switch Sports, with sales of 20.61 million, 10.1 million, and 8.6 million units.
Given the decline in revenue and profit, Nintendo has lowered its financial forecast for the entire year ending 31st March.
The company anticipates revenue of 1.6 trillion ($12.1 billion) and net income of 370 billion ($2.8 billion), decreases of 3% and 7.5%, respectively, from its previous projections. (Source)
✨ Going to Events Spiritually
Xbox Game Pass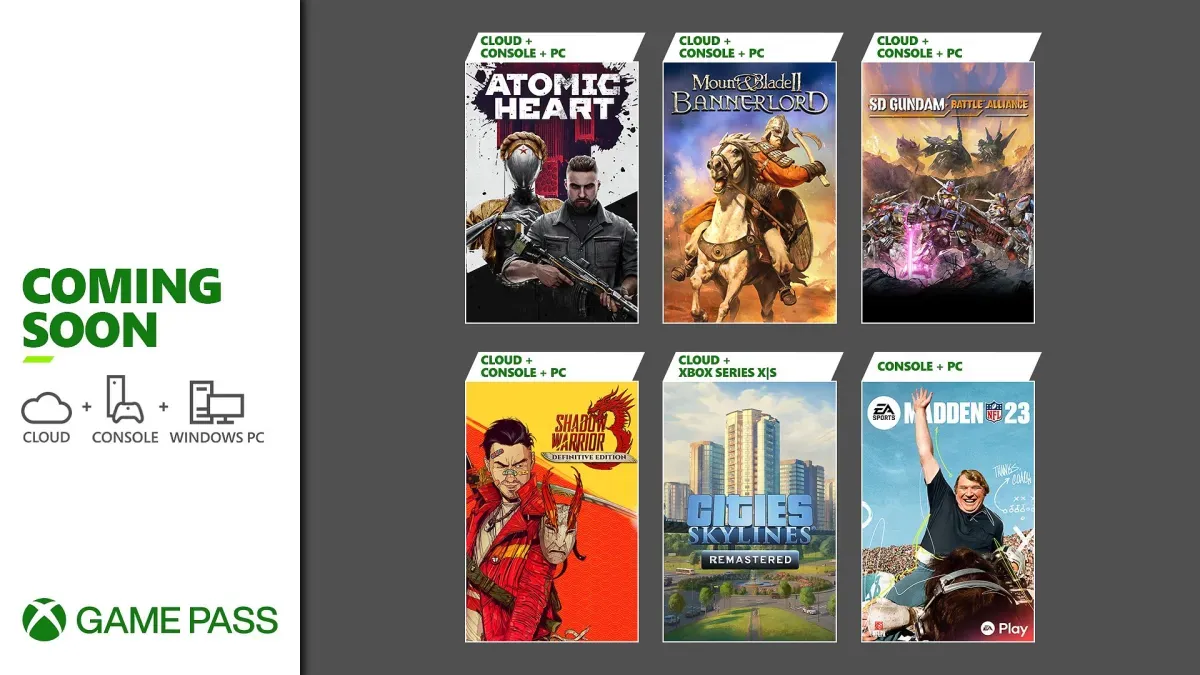 Madden NFL 23, Atomic Heart, Mount & Blade II: Bannerlord.
Nintendo Direct
Games in Bold & Italics are the games I'll be getting.
Pikmin 4 - 21st of July, 2023
Xenoblade chrones 3: Volume 3 of DLC will be available on 15th February 2023. Volume 4 was announced as well.
Samba de Amigo: Party Central - Summer 2023
Fashion Dreamer - Summer 2023
Dead Cells: Return to Castlevania on 5th March 2023.
Tron: identity - April 2023
Ghost Trick: Phantom- summer 2023
Deca Police - 2023
Bayonetta Origins: Cereza and the Lost Demon - 17th March 2023.
Splatoon 3 Expansion - Available on 8th February 2023. Wave 1 Sping 2023, Wave 2: Side Order coming later.
Disney Illusion island - 28th July 2023.
Fire Emblem Engage - New information about Expansion Pass. Wave 2 will arrive on 8th February 2023. Wave 4 will come at a later date and have a new story.
Harmony: The Fall of Reverie - June 2023
Octopath Traveller 2 - Demo launches on 8th February 2023. The game itself will launch on 24th February 2023.
We Love Katamari REROLL+ Royal Reverie - 2nd June 2023.
Sea of Stars - Launches 29th August 2023. A free demo will be available from 8th February 2023.
Omega Strikers - 29th April 2023.
Etrian Odessey Origins Collection - 1st June 2023. Each game is available separately as well.
Advanced Wars 1+2: Reboot Camp - 21st April 2023.
Kirby's Return to Dreamland Deluxe - 24th February 2023. Demo available from 8th February 2023.
Gameboy games are being added to Nintendoswitch online - Tetris, Super Marioland 2, The Legend of Zelda: Links Awakening DX, Gargoyle's Quest, Game & Watch Gallery 3, Alone in the dark, The New Nightmare, Metroid 2 - Return of Samus, Wario land 3, Kirby's Dreamland.
Gameboy Advance is being added - Super Mario Advance 4: Mario Bros 3, WarioWare inc: Mega Microgames, Kurkurkuruin, Mario Kart Super Circuit, Mario & Luigi Superstar Saga, Legend of Zelda Minish Cap.
Metroid Prime Remastered  - eShop version launches 8th February 2023. The physical version will launch on 22nd February 2023.
Master Detective Archives Raincode - 30th June 2023.
Baten Kaitos 1 & 2 HD - Summer 2023
Fantasy Life I - The Girl who steals time - 2023
Professor Laton and the World of Steam
Mario Kart 8 - Wave 4, Spring 2023
Minecraft Legends - 18th April 2023
Blanc - 14th February 2023.
Megaman Battle Network Collection - 14th April 2023.
Have a lovely death - 22nd March 2023.
WBSC eBaseball: power pros - 8th February 2023.
Disney Dreamlight Valley - April 2023
Tales of Symponia Remastered - 17th February 2023.
The Legend of Zelda: Tears of The Kingdom - 12th March 2023.
🎮 Where's My Controller?
IXION still has my attention. I want to complete this game.
I played the Kirby Return to Dreamland Deluxe, and I am hyped.
📝I don't know what a pen looks like.
This week had a lot of stuff to sift through.
💖 Enjoy this newsletter?
Forward to a friend and let them know where they can subscribe (hint: it's here).