Amazon acquires Tomb Raider, and EA cancels Apex Legends Mobile, Battlefield Mobile, and Titanfall 3! Nintendo, PlayStation, and Xbox no-shows at E3!
Amazon acquires Tomb Raider, and EA cancels Apex Legends Mobile, Battlefield Mobile, and Titanfall 3. Nintendo, PlayStation, and Xbox no-shows at E3!
🕹️ The Console War Rages On
Sony, Xbox, and Nintendo will be no-shows at E3 2023!
A new report by IGN has indicated that Xbox, Sony, and Nintendo will skip the yearly show, which finally returns to an in-person event since the pandemic started. While Xbox will return to Los Angeles for its annual summer showcase, they made no indication if it will be part of the E3 floor. Sony has not been a part of E3 since 2019 due to potentially ongoing issues with the Entertainment  Software Association. Xbox, however, noted that they have a good relationship with the ESA. There are rumours which indicate that Nintendo will not have any big hitters after The Legend of Zelda: Tears of the Kingdom, and as a result don't think the cost of an E3 booth makes economic sense. The report also notes that despite the new event organizers, ReedPop - who handles multiple other large conventions such as Star Wars Celebration, New York Comic Con, and PAX - there seems to be a lot of mismanagement of the event as a hold, with promises made with publishers last fall. Still, as of December 2022, the promised bookings have no information. (Source)
PlayStation has not cut PSVR2 production!
In response to a Bloomberg report, PlayStation states that it has "not reduced PlayStation VR 2 production." According to GamesIndustry.biz, the company is "seeing enthusiasm from PlayStation fans for the upcoming launch, which will include more than 30 titles such as Gran Turismo 7, Horizon Call of the Mountain, and Resident Evil Village." The initial report indicated that Sony was significantly reducing its projections for PlayStation VR 2 and cautioned its supply chain partners that production could also decrease. According to the source, Sony has halved its original forecast for PSVR 2 shipments from two million units for the headset's launch quarter to one million. The PlayStation VR 2 release date is 22nd February. It will cost $550, and 37 titles are scheduled to be released during its launch window. (Source)
Embracer Group has leased Tomb Raider to Amazon!
Amazon just acquired the 'Tomb Raider' rights from Embracer Group in a deal valued at approximately $600 million, making it Amazon's second largest commitment after purchasing the television rights for 'The Lord of the Rings: The Fellowship of the Rings'. Consequently, this provides context for the cost and commitments that Embracer may be seeking. (Source)
EA cancels Apex Legends Mobile, Battlefield Mobile, and Titanfall 3!
According to three individuals who know the situation, Electronic Arts Inc. has cancelled a game based on the Apex Legends and Titanfall franchises. Respawn Entertainment was developing the game for EA, which had not yet been announced publicly. Tuesday, EA, one of the largest video game publishers in the world, issued a disappointing revenue forecast for the current quarter. The company announced the cancellation of the mobile game Apex Legends and a mobile version of Battlefield, as well as the closure of the studio responsible for their development. EA also delayed Respawn's highly anticipated Star Wars Jedi: Survivor in development. According to management, EA will attempt to place the approximately fifty members of the unnamed game's development team. According to individuals who know the situation and request anonymity because they were not authorized to speak to the media, those who cannot be placed will be given severance packages and laid off. Titanfall Legends, or TFL, was a cancelled single-player game set in the same universe as Apex Legends and Titanfall. Seasoned designer Mohammad Alavi directed it until he left the company in early 2022. EA made several hints about the game, which was not advertised, even though it was not announced. (Source)
Advance Wars 1+2 Re-Boot Camp gets relisted!
Walmart, Best Buy, Amazon Canada, and EB Games have relisted Advance Wars 1+2: Re-Boot Camp. Initially scheduled for release on the Nintendo Switch family of systems in December 2021, the collection was delayed indefinitely due to the Russian military invasion of Ukraine. Now that Advance Wars 1+2: Re-Boot Camp has reappeared on numerous retail sites worldwide, speculation has arisen that Nintendo is prepared to commit to a release date for the compilation. Advance Wars 1+2: Re-Boot Camp is a WayForward and Nintendo collaboration. (Source)
Horizon Forbidden West gameplay leaked for its Multiplayer!
Co-op gameplay footage from Guerilla's forthcoming Horizon: Forbidden West has allegedly leaked online. The video was brought to light by the game's official subreddit community and u/BirdonWheels, who claims the footage - reportedly shot in "summer 2020" - is "very old" and includes a "join-PC" and "join-PS4" option in the alpha build, indicating that the game may eventually support cross-platform connectivity. While we glimpse some combat, the video focuses primarily on the game's environments, characters, enemies, and potential skins. However, as the footage is almost three years old, a lot can change in that time, so don't be surprised if the final game looks or plays very differently from what we see in this leak. (Source)
Hi-Fi RUSH performs exceptionally well!
The shadow-dropped game from Tango Gameworks during the Xbox Developer Direct showcase has found its way onto the top 10 best sellers for the week ending 29th January 2023 on SteamDB. Indicating that the game has done exceptionally well. Hi-Fi Rush is a rhythm-based action game for Windows and Xbox Series X/S developed by Tango Gameworks and published by Bethesda Softworks. It was announced on 25th January 2023 and released the following day globally. Chai is a self-proclaimed "future rock star" whose music player is accidentally implanted in his chest during experimental cybernetic surgery, allowing him to sense the world's rhythm. Chai, labelled a "defect" and hunted by the corporation that transformed him, unites with new allies to defeat the company's executives and thwart their schemes. The Black Keys and Nine Inch Nails are licensed artists featured on Hi-Fi Rush. (Source)
📈 Financing the Bits & Bytes
Capcom claims forty million game units by the end of the fiscal year!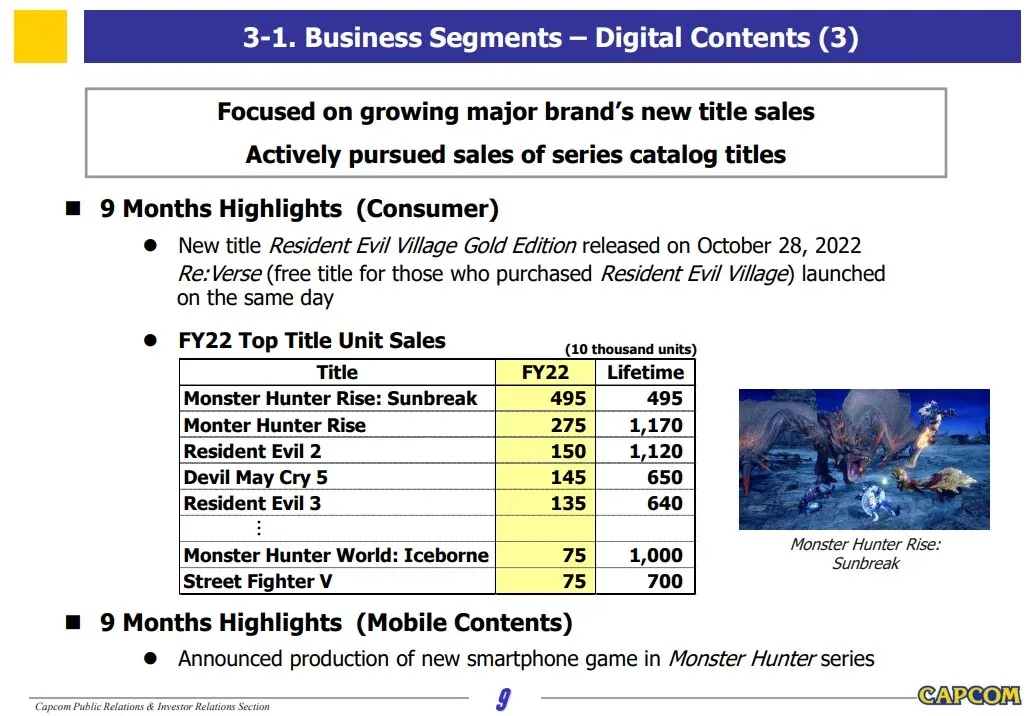 In its most recent financial results released on Monday, the publisher reported that it sold 29.1 million games to consumers in the nine months leading up to 31st December 2022, an increase from the 25.8 million games sold during the same period in 2021.
And with continued sales of catalogue titles and the upcoming release of Resident Evil 4 on 24th March – a week before the end of Capcom's fiscal year – the company expects to sell more than 40 million game units, which would be a record for an entire year.
Capcom anticipates that 90% (36m) of these sales will be digital downloads and only 10% (4m) will be physical, with 75% (30m) being catalogue sales and 25% (10m) being new releases (Monster Hunter Rise: Sunbreak and Resident Evil 4).
The company attributes its current sales figures to the release of Monster Hunter Rise: Sunbreak and its continued pursuit of digital sales, including the sale of catalogue titles primarily comprised of Monster Hunter and Resident Evil games.
The company sold 2.75 million copies of Monster Hunter Rise, 1.5 million copies of Resident Evil 2, 1.45 million copies of Devil May Cry 5, and 1.35 million copies of Resident Evil 3 in the nine months leading up to 31st December. Each of Monster Hunter World: Iceborne and Street Fighter V has sold 750 thousand of units.
Despite massive unit sales, Capcom's sales revenue has decreased year-over-year, which the company again attributes to the release of "a new major title" in the same period of the prior year, most likely Resident Evil Village.
Net sales were 79,671 million yen for the nine months ending 31st December 2022 (down 9.6% year-over-year), operating income was 33,332 million yen (down 5.0% year-over-year), and ordinary income was 33,564 million yen (down 7.1% year-over-year).
Capcom expects these to be completed by the end of the fiscal year (31st March 2023), indicating that it has high hopes for Resident Evil 4. This would be Capcom's tenth consecutive year of increasing operating income. (Source)
PlayStation reports the most significant quarter since its release!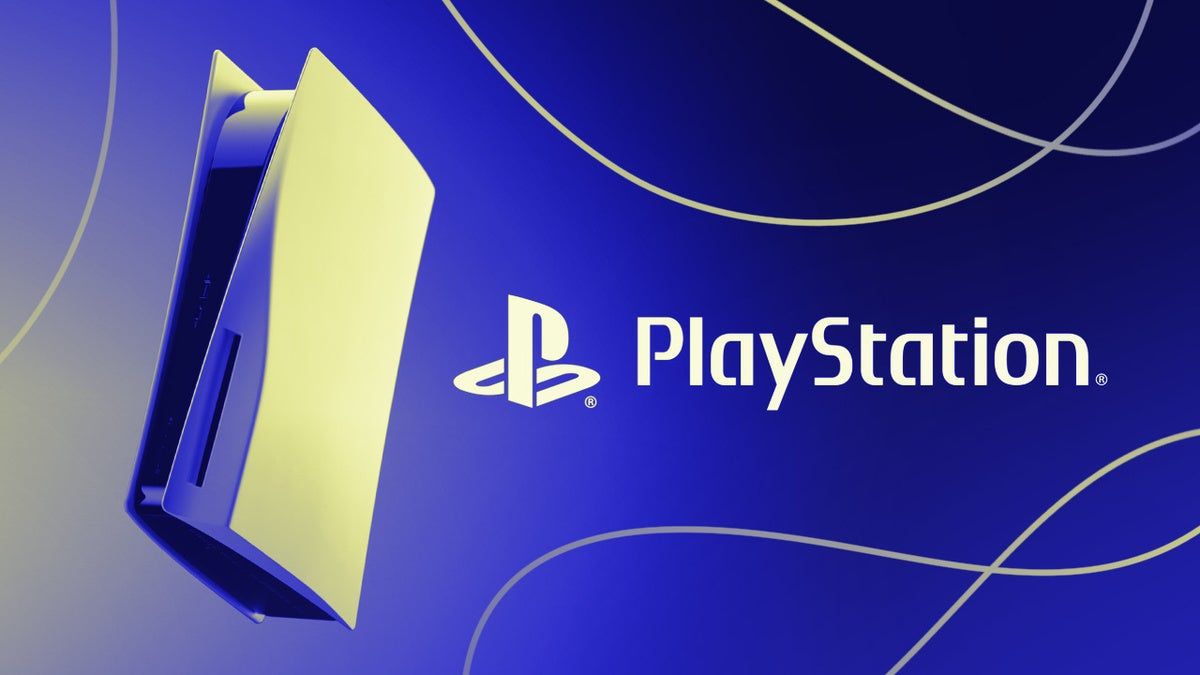 According to the company's most recent financial report, 7.1 million PS5s were shipped in the three months leading up to 31st December 2022. This is nearly double the number of units sold during the same quarter last year, which was 3.9 million. According to Sony's earnings reports, the company has now shipped 32,1 million units of its latest generation console, which is in line with the 30 million lifetime sales figure disclosed at the beginning of January.
The global chip shortage significantly impacted production, making it difficult for the company to meet the demand for its new console for most of its two-year lifespan.
Isabelle Tomatis, vice president of brand, hardware, and peripherals at Sony Interactive Entertainment, stated earlier this week that PS5 consoles should now be more widely available at retailers worldwide.
Nikkei reports that Sony has increased its operating profit forecast for the end of the year from 1.16 trillion yen to 1.18 trillion yen (approximately $9.1 billion). Even though the new forecast still represents a 2 per cent year-over-year decline, a Bloomberg-quoted analyst was impressed by Sony's performance in light of the struggles of the entire technology industry.
An analyst at Morningstar Investment Service, Kazunori Ito, remarked, "Given the current global demand environment, it's astonishing that Sony's earnings are in line with expectations."
Aside from this, PlayStation Plus subscriber numbers increased marginally to 46,4 million quarter-over-quarter but were still lower than 48 million in the same quarter of the prior year.
Nevertheless, network service revenue increased by approximately 17 per cent, indicating that Sony's revamped PlayStation Plus subscription tiers are increasing average revenue per user.
VGC notes that Sony will need to continue selling PlayStation 5 consoles at a similar rate to reach its 18 million console sales target by the end of its fiscal year in 2022. This will necessitate the sale of an additional 5,2 million consoles in the quarter ending 31st March.
This objective may be attainable with the 22nd February release of the highly anticipated PSVR 2 headset and what appears to be a large-scale marketing campaign. (Source)
✨ Going to Events Spiritually
Xbox Games with Gold for February 2023 sees For the King and Guts N Goals added to the service. (Source)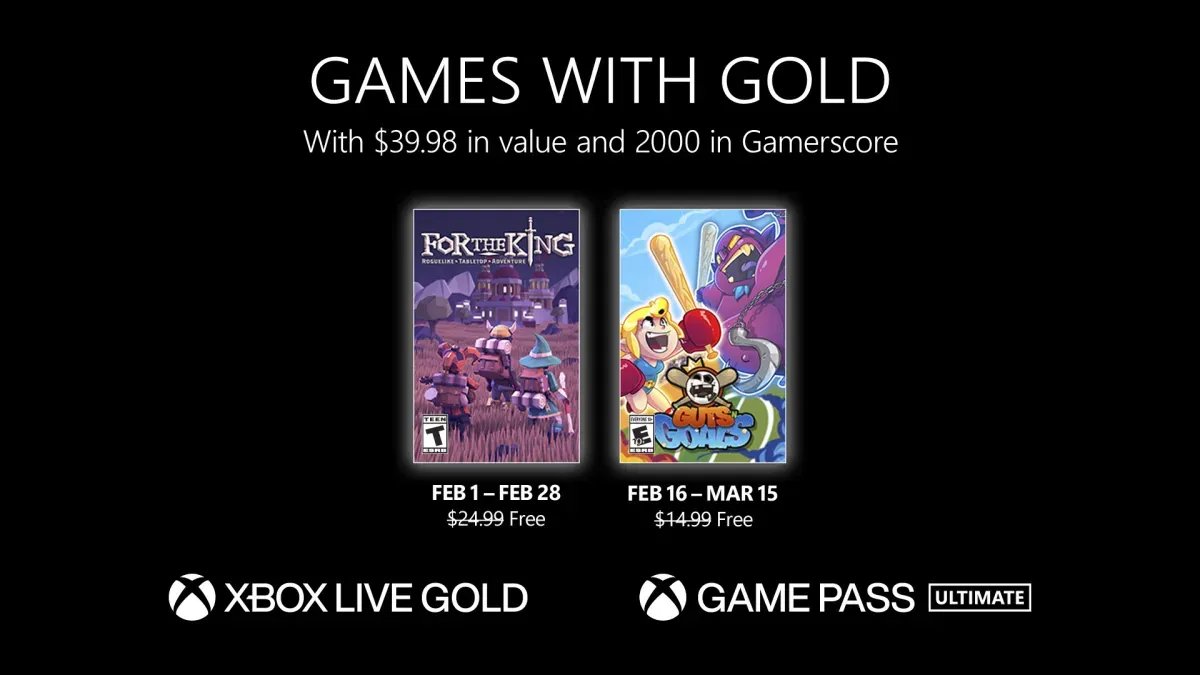 PlayStation Plus members get four new games in February. Take on demonic Deadites in Evil Dead: The Game's asymmetrical multiplayer mode, grind and trick your way through the vibrant world of Radlandia in OlliOlliWorld, and live the life of a Prohibition-era gangster in Mafia: The Definitive Edition. In addition to these titles, Destiny 2: Beyond light joins the roster this month as a bonus game. From Tuesday, 7th February, through Monday, 6th March, all four titles will be accessible to PlayStation Plus Essential, Extra, and Premium members. (Source)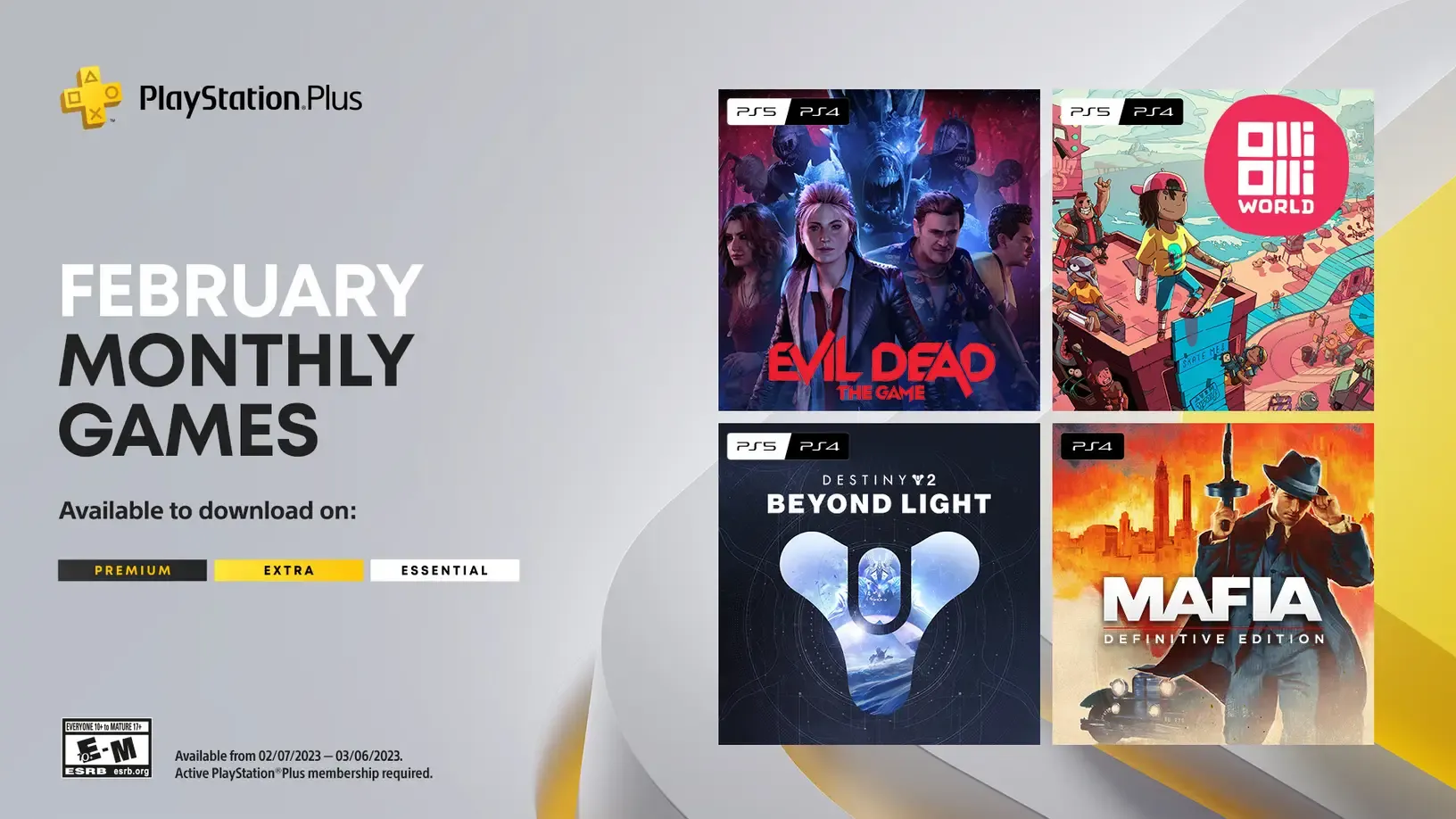 🎮 Where's My Controller?
I have only been playing IXION for this past week. The game is addictive. I will be doing a written piece on this in the future. Most likely when I complete the game itself.
🎵 Turn it up to 11!
Since  I've been obsessed with IXION, you need to hear the metallic contemplations across the stars with Guillaume David's excellent soundtrack. The soundtrack adds to the tense contemplations you will have to make as your resources dwindle and you frantically turn off factories and mismanage your population before their inevitable revolt. (YouTube Link)
📝I don't know what a pen looks like.
I recently my new piece on Megaman 11: "Does Megaman 11 deserve to be the best-selling game in the franchise?".  
Megaman 11 brought the classic blue bomber back to new heights, and with that, it took the title of best-selling classic Megaman title. Capcom had pre-emptively purchased the domains of Megaman 12, 13, 14, and 15. With the glaring success that Megaman 11 has, there is still a demand for classic Megaman. That raises a question, though, Does Megaman 11 deserve to be the best-selling game in the franchise?

You can read the rest here.
I also recognize some of you may not want reviews sent to your inbox. I will provide a new newsletter specifically for Reviews & Think Pieces in the coming weeks.
This week's newsletter was a bit more intense than I usually do. This is part of my plans to expand Void0Media. You will receive a taste of the Financial section I've been working on for a while. That portion of the letter is currently in Alpha, and tracking and compiling financial reports/data can be more time-consuming than a simple news digest. Once it exits Alpha, I will place it behind a paywall, which you can access via our Patreon. This is not absolute, and I would love to hear your thoughts and feature requests for the newsletter in the comments section here.
Be sure to use the "More Like This" or the "Less Like This" buttons at the end of the newsletter to let me know your thoughts on the newsletter.
💖 Enjoy this newsletter?
Forward to a friend and let them know where they can subscribe (hint: it's here).