Pokemon Scarlet ROMs leak online, Netflix to create Gears of War film, Nintendo talks sales and partners with DeNA, Capcom bringing Monster Hunter to Mobile, and NCSoft gets Horizon MMORPG!
🕹️ The Console War Rages On
Ratchet & Clank 20th Anniversary sees games find their way onto PS Plus. The critically acclaimed Ratchet & Clank series will get a selection of the games landing on PlayStation Plus for their 20th anniversary. Ratchet & Clank (PS3), Ratchet & Clank: Going Commando (PS3), Ratchet & Clank: Up Your Arsenal (PS3), Ratchet & Clank: Deadlocked (PS3), Ratchet & Clank Future: Tools of Destruction (PS3) will all make their way on to PlayStation Plus Premium on the 15th of November, 2022. (Source)
Gears of War to receive a live-action adaptation and adult animated series from Netflix - Netflix once again dips into the pool of video game franchises to bolster their catalogues. Netflix has announced a partnership with The Coalition - the developers of the original Gears of War games - to adapt the game into a live-action feature film followed by an adult animated series. Netflix also noted that there would be potential for additional stories to be set in the Gears universe. (Source)
EA has shelved Project CARS - Another one bites the dust, as EA has decided to cease development and investment of Project CARS. The IP appears to have been sent to the EA vault, as the employees have been moved to other projects. (Source)
Nintendo Company has partnered with DeNA Company to continue developing the Nintendo Account. A joint venture has been established between Nintendo and fellow Japanese company DeNA to expand the relationship that started in 2015 when they were initially brought in to create the core system of the Nintendo Account. Nintendo noted that this joint venture is to strengthen the digitalization of Nintendo's business as well as create new value-added services that will reinforce Nintendo's relationship with consumers. (Source)
Nintendo's Financial report for Q2 - Following Q2, Nintendo has released a new report which updates investors on hardware and software sales. The Nintendo Switch stands at 114 Million units sold, with Switch games accounting for 917 Million units. The best-selling Switch game is Mario Kart 8 Deluxe, with 48.41 million units. Followed closely by Animal Crossing: New Horizons with 40.17 million units sold. The Legend of Zelda: Breath of the Wild has sold 27.79 million units, with Pokemon Sword/Shield standing at 27.79 million. Nintendo also noted that 51% of all software sales came from the digital storefront rather than physical sales. (Source, Source 2, Source 3)
Sony has partnered with NCSoft for Horizon MMORPG - Sony has selected the South Korean studio best known for Lineage and Guild Wars to develop the new MMORPG set in the Horizon Universe. According to sources, the game is still early in development as the company is still actively hiring for positions such as Senior Game writer. (Source)  
Capcom set to bring Monster Hunter to mobile platforms - TiMi Studio Group and Capcom have partnered together to bring Monster Hunter to mobile platforms. According to the reports, it is set to be an all-original game set in the Monster Hunter universe. (Source)
Pokemon Scarlet has been leaked - The Pokemon Scarlet ROM has leaked online. Gamers have been streaming themselves playing the game, and YouTube videos have gone up featuring spoilers from within the game. This gameplay is being run through an emulator. No Sources are provided.
✨ Going to Events Spiritually
Nintendo had its Indie World Showcase on the 9th of November, 2022. Bolded games are my games to watch/what I will be picking up.
Venba - Venba is a cooking game about an Indian mother and her family living in 1980s Canada. It will be released in Spring 2023.
Goodbye World - Play through 12 stages of a puzzle platformer while following the two protagonists through 13 chapters of their story. It will be released in November 2022.
Have a Nice Death - Have a Nice Death is a 2D action roguelike where you play as an overworked Death whose employees have run rampant, completely throwing off the balance of souls - and his vacation plans. To restore order, you'll have to grab your trusty scythe and show your employees who's boss. It will be released on the 22nd of March, 2023.
Aka - Find inner peace in a small, open-world game. On these carefully handcrafted islands, you can nap on a giant monster, feed baby dragons, and take care of the fauna and flora... ...but demons from your past might come back to remind you what you want to forget. It will be released on the 15th of December, 2022.
Pepper Grinder - Pepper Grinder is an action-packed 2D adventure blending traditional platforming with an alternate drilling mode that allows you to dive in and out of the earth as a dolphin swims through water. It will be released in 2023.
Coffee Talk Episode 2: Hibiscus & Butterfly - Dust off your coffee machine and prepare your warmest smile to meet your customers again in the second episode of the much-loved coffee brewing and heart-to-heart talking simulator, Coffee Talk Episode 2: Hibiscus & Butterfly. It will be released in Spring 2023.
Oni: Road to be the Mightest Oni - Break your enemies' souls to reclaim your pride. On Kisejima, demon warrior Kuuta and his partner Kazemaru challenge these souls to a trial. All to defeat Momotaro, a human and an evil monster. A tale of sky and wind as they embark upon an island quest. It will be released on the 9th of March, 2023.
Desta: The Memories Between - Relive memories, rediscover friends and repair relationships in this unique turn-based strategy exploration through dreams and regrets from the creators of Monument Valley. It will be released in early 2023.
A Space for the Unbound - A slice-of-life adventure game with beautiful pixel art set in the late 90s rural Indonesia that tells a story about overcoming anxiety, depression, and the relationship between a boy and a girl with supernatural powers. It will be released on the 19th of January, 2023.
Dordogne - Dordogne is a narrative adventure game in which you play as Mimi, a young woman visiting the house of her recently deceased grandmother who left her letters and puzzles to solve. To do so, Mimi will revisit her childhood memories and reconnect with the little girl who marvelled at everything. It will be released in Spring 2023.
Botany Manor - Welcome to Botany Manor, a stately home in 19th-century England. You play as inhabitant Arabella Greene, a retired botanist. Explore your house and gardens, filled with research, to figure out the ideal habitat of forgotten flora. Grow each plant to discover the mysterious qualities they hold. It will be released in 2023.
Once Upon a Jester - Travel the kingdom as Jester with his best friend Sok to improvise theatre shows and perform on stages far and wide. Sing your hearts out, crack jokes and impress audiences to become the stars of the famous Royal Theatrical Spectacle! Available now on Nintendo Switch.
Rouge Legacy 2 - Rogue Legacy 2 is what you'd get if you mashed Rogue Legacy and a sequel together. Every time you die, your children will succeed you, and each child is unique. Your daughter might be a Colourblind Archer, and your son could be a Pacifistic Chef. Either way, one of them is getting conscripted. Available now on Nintendo Switch.
Blanc - Blanc is an artistic cooperative adventure that follows the journey of a wolf cub and a fawn stranded in a vast, snowy wilderness. They must come together in an unlikely partnership to find their families. It will be released in February 2023.
A little to the left - A Little to the Left is a cozy puzzle game that has you sort, stack, and organize household items into pleasing arrangements while you keep an eye out for a mischievous cat with an inclination for chaos. Check out this playful and intuitive puzzler with 75+ satisfying messes to tidy. Available now on the Nintendo Switch.
Sports Story - Sports story is a sports RPG like no other. It features a mix of sports and sporting activities wrapped up in one big story. With many characters to meet, you will make plenty of friends and enemies along the way. Sports Story isn't just about sports, and it's an all-out sporting adventure. It will be released in December 2022.
PlayStation Plus Game Catalog lineup for November: Skyrim, Rainbow Six Siege, Kingdom Hearts III, The Division 2, Chorus, and The Gardens Between.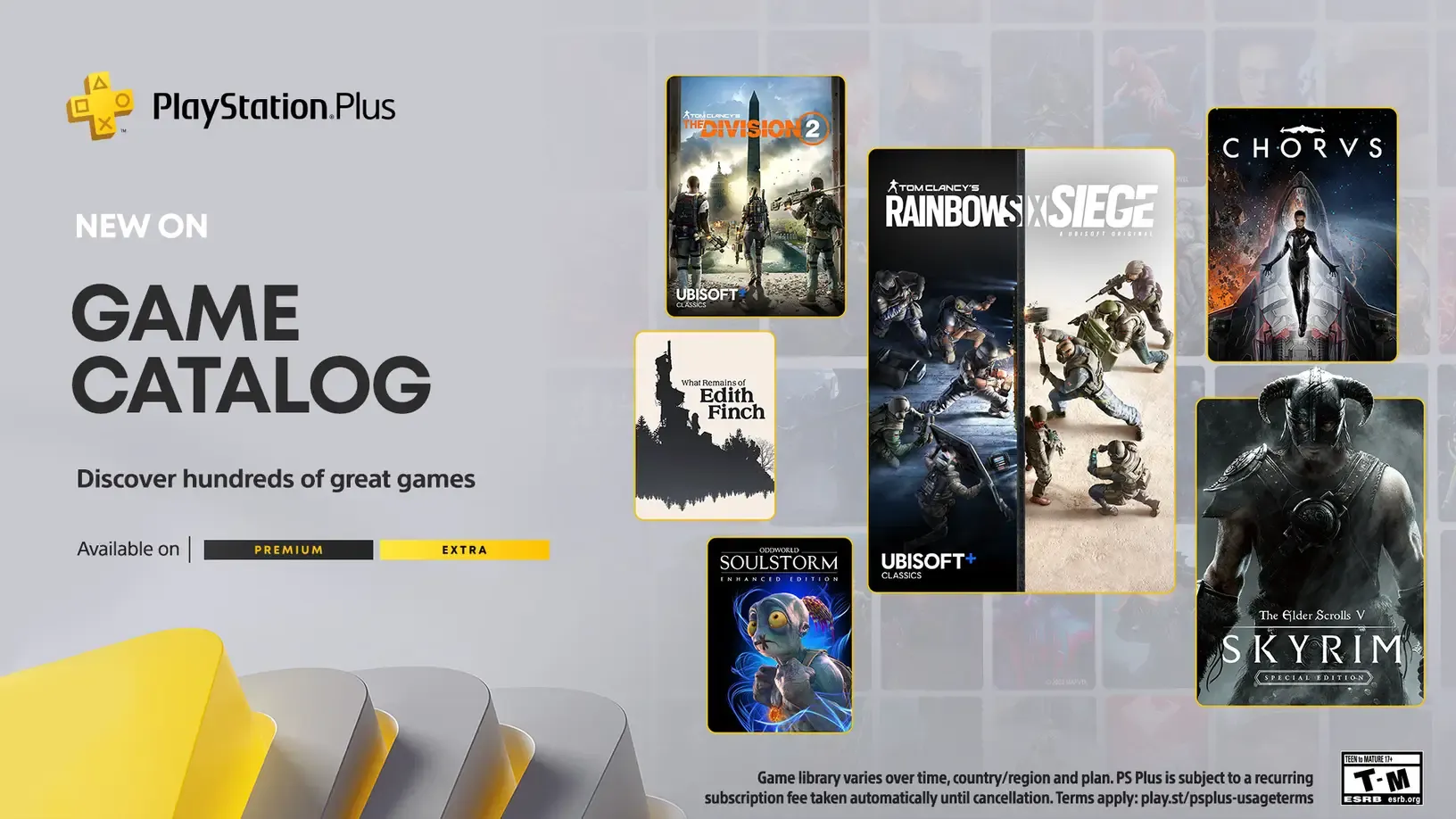 📝I don't know what a pen looks like.
I've been doing this for almost fifty (50) weeks. In two weeks, it's going to be a year since I started doing this newsletter. And even longer since I began Void0Media. Honestly, it doesn't even feel like that amount of time. I am very grateful to those who have read my newsletters. This was initially supposed to be a little longer, but I will be better prepared in two weeks. Thank you all to those who have subscribed.
💖 Enjoy this newsletter?
Forward to a friend and let them know where they can subscribe (hint: it's here).